Better Hearing and Speech Awards
The Nebraska Speech-Language-Hearing Association (NSLHA) will select up to three (3) Better Hearing and Speech Month Award recipients. There are no age restrictions for the Representative nominees. Nominees must have a significant hearing, speech and/or language challenge.
Nominees may be sponsored by parents, spouses, teachers or NSLHA members. Entry forms must provide a professional estimate of the degree of hearing and speech impairments.
The Child Representative and/or Adult Representative will be used in photographs to promote Better Hearing and Speech Month in Nebraska during the month of May. All entries become the property of NSLHA and all decisions are final.
On May 10, 2017, a Better Hearing and Speech Month proclamation ceremony will be held at 10:00 a.m. in the Warner Chamber in the state Capitol in Lincoln, Nebraska. Award recipients will be recognized during the ceremony.
2017 Better Hearing and Speech Recipients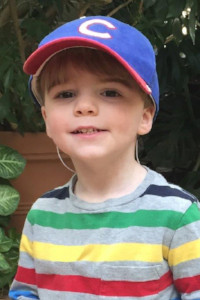 Fletcher Beard
Fletcher was nominated by Debbie Smith CCC-A, Parent Infant Specialist; and Kayla Samuelson CCC-SLP from Boys Town National Research Hospital. Fletcher was born with bilateral profound hearing loss. He was identified through the newborn hearing screening process and connected to support information through the EHDI program in Nebraska. At the age of 2 months, Fletcher and his family were enrolled in early intervention services through Omaha Public Schools. The family received home based services from a parent-infant specialist with expertise in the area of hearing loss through a joint service delivery model with OPS and Boys Town National Research Hospital.
At the beginning of early intervention services Fletcher's parents - Aaron and Angie Beard - admitted that they had no idea how to plan or decide what was needed for Fletcher. They both agreed they were willing to do whatever was needed for him to learn and develop communication skills. They were eager and committed to carrying out the recommendations of their Boys Town audiologist and their early intervention team. Fletcher received his hearing aids at 2 months of age, and his parents worked diligently to establish consistent hearing aid use. As they learned more about Fletcher's hearing loss and about amplification options, they realized that hearing aids would not provide enough for Fletcher to develop adequate listening and spoken language skills. Aaron and Angie decided to pursue cochlear implants for Fletcher, and he was implanted bilaterally by 13 months of age at Boys Town National Research Hospital.
Aaron and Angie have been amazing and eager 'students' in their endeavor to understand how  Fletcher's hearing loss impacts his speech and language development, and how his technology can support his skills. They are masters in managing his equipment and skillful in keeping the hearing devices in place on the ears and head of little Fletcher. Aaron and Angie quickly invited extended family members to join their efforts in learning about Fletcher's hearing technology and hearing loss from the beginning. 
Fletcher's parents have enduring commitment to their son's success. Aaron and Angie committed to attending additional listening therapy sessions for Fletcher following his cochlear implantation.  Early on, Aaron and Angie decided to learn sign language to use with Fletcher so that he would be able to communicate through the first couple of years. After nearly two years of implant use, Fletcher has made significant gains in his listening, speech, and spoken language skills. He communicates using 3-4 word combinations to express his desires and thoughts. He answers questions and follows directions using listening alone.  He spontaneously uses all early developing and some later developing speech sounds, and his language scores on standardized measures range from within average to above average.
Fletcher was immersed in language on a daily basis with the involvement of many of his family members. He was an active part of all that they did from home activities to larger extended family gatherings. His language growth has mirrored that of typically developing hearing children, and he now uses spoken language with all with whom he comes in contact. He is delightfully outgoing and loves to talk with people. He enjoys baseball and receives coaching from his Grandpa. He has a good throwing arm and is good with a bat! He will be three years old in June and is looking forward to going to preschool in fall of 2017.
Throughout this journey, Aaron had been pondering a future career change. His experience with Fletcher has motivated him to pursue becoming a speech-language pathologist, and he is now enrolled in the University of Nebraska's speech-language pathology program.  Both Aaron and Angie are thrilled with Fletcher's progress, and Aaron is excited about pursuing a potential career in a field related to his personal life experience. They have handled the many appointments, home visits, parent conferences, and large amounts of information with smiles, positivity, humor, and grace. Fletcher would not be the talkative, comical, happy, playful little boy he is, if not for their loving, diligent, and faithful investment of themselves in him.
Fletcher represents the beautiful outcome that was realized due to Angie and Aaron's family commitment to their son Fletcher, and the combined local and state partnerships  which include The Nebraska Department of Education, Omaha Public Schools, the Nebraska Early Hearing Detection and Intervention program, Boys Town National Research Hospital's audiology, speech-language pathology, cochlear implant programs, the Metro Regional Programs for Students who are Deaf or Hard of Hearing, and the parent support group, Nebraska Hands and Voices.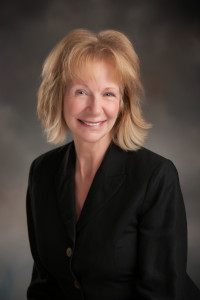 Carol Lomicky is a successful professor at the University of Nebraska at Kearney. She has been diagnosed with Meniere's and had a significant unilateral hearing loss with vertig, and later had a sudden loss of her hearing in the better ear. She currently wears a Cochlear Implant in one ear and a hearing aid in the opposite ear. Carol's attitude has been extremely positive and she sought out successful strategies to help cope with her loss of hearing. She arranged to have a "transcriber" in her classroom, so that she could be sure she heard students correctly. She quickly recognized the benefit of the telecoil and was the driving force behind so many of the installation of public looped systems in Kearney.
Carol has worked tirelessly with various organizations in the Kearney area, and has been successful in getting many public loop installations completed. Countless numbers of hearing impaired individuals have benefited from her drive and determination. She continues to be an advocate for the hearing impaired and is always willing to encourage others going through a difficult transition.
Carol wrote, "For more than 20 years, I had functioned pretty well with one ear, having experienced hearing loss from what the doctors attributed to Meniere's syndrome. Ultimately, a labyrinthectomy eliminated the dizzy spells, but the surgery left me totally deaf in my right ear. Still I did not consider this to be a major problem because that had been my "bad ear" for some time anyway. Then, several years ago, I experienced a sudden and profound loss of hearing in my "good ear." A hearing aid helped, but I was only able to continue in my profession as a university professor and administration through the assistance of transcribers, who provided the dialogue which I read on a computer screen. It got me through, but frankly, it was clunky.
I served for two terms on the Nebraska Commission for the Deaf and Hard of Hearing Board of Directors from 2010-2016 and at one of my first meetings the room had been set up with an induction hearing loop. I turned on the telecoils in both my assistive hearing devices, and I was amazed. It was as if someone was talking to me directly into my hearing processors. No annoying background noise to impede understanding, and the clarity - especially for speech - was remarkable. And I became a hearing loop advocate right then and there!
Today I am happy to report that Kearney is one of the most, if not THE most, looped city in the state. To date, venues that have been equipped with a hearing loop are: the World Movie Theatre, the Merryman Performing Arts Center, the Kearney Community Theater, the Kearney Public Library meeting rooms, Peterson Senior Center and churches including the First Lutheran, the First United Methodist, St. James Catholic, and Zion Lutheran Church."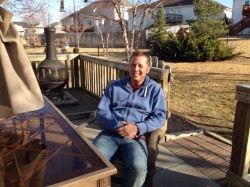 Travis Schwaderer experienced a stroke five years ago. Prior to his stroke, he lived in Chicago and worked in the field of information technology. Following his stroke, he made it through surgery and subsequent rehabilitation. He worked his way from being wheel chair bound to walking independently, producing one repetitive syllable (e.g., I) to communicating with phrases and sentences, and from living in an assisted living community to living independently in Lincoln. Recently, he reached his goal of obtaining his driver's license to increase overall independence.
Travis lives with aphasia. His aphasia is characterized by word finding difficulties, use of telegraphic speech, and frequent checks for comprehension. He has success in conversation by using actions, circumlocution (talking around a topic), and other strategies learned in therapy (e.g., script training). Being an IT expert, he also enjoys using technology to communicate his ideas. Despite his communication impairment he is social, enthusiastic, and friendly to those around him.
Travis is very motivated to improve his communication skills. He has a great attitude and work ethic, especially during speech and language therapy. Travis is not afraid of a challenge, and sets goals he aims to accomplish. Currently, he is making progress in reading, reading comprehension, and overall communication. He continues to stay in close contact with friends and family. Once he has met a goal he continues to strive for something new. Currently, Travis is working towards obtaining a job or volunteer position.
Travis is a great example of someone who does not let a communication impairment discourage him. He continues to enjoy every minute of his life; he participates in every experience with determination and drive to be a better person. Travis hopes to share his story with others, and encourage young adults to live a safe and healthy life.