Better Hearing and Speech Awards
The Nebraska Speech-Language-Hearing Association (NSLHA) will select Better Hearing and Speech Month Award recipients during the month of May.
Award recipients will be recognized during the Better Hearing and Speech Month proclamation ceremony on Monday, May 4, 2020 at 10:30 a.m. at the State Capitol in Lincoln, Nebraska.

There are no age restrictions for the Representative nominees. Nominees must have a significant hearing, speech and/or language challenge.
Nominees may be sponsored by parents, spouses, teachers or NSLHA members. Entry forms must provide a professional estimate of the degree of hearing and speech impairments.
The Child Representative and/or Adult Representative will be used in photographs to promote Better Hearing and Speech Month in Nebraska during the month of May.
Complete and submit this nomination form and permission form to the NSLHA office by April 10, 2020. A permission form must be submitted by the individual being nominated (if an adult) or the parent or legal guardian of a child who is nominated.
2019 Better Hearing and Speech Recipients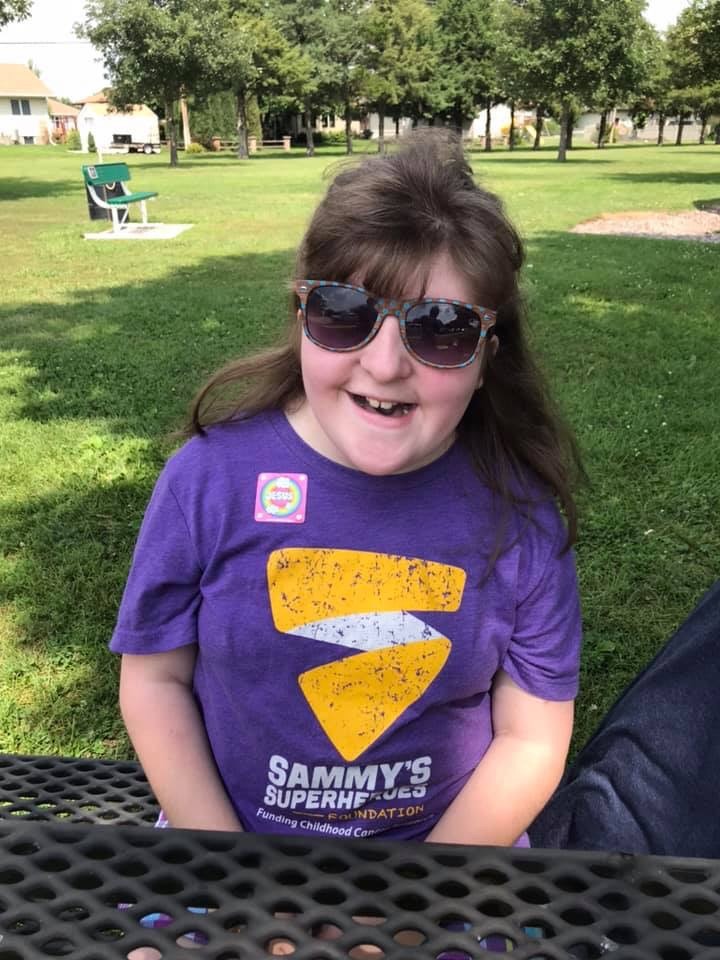 Mikayla Loseke
Mikayla is a wonderful 12 year old girl. She presents with neurofibromatosis, an inoperable brain tumor, seizures and blindness. Tumors located on Mikayla's optic nerve took away her vision at 2 years of age. Due to the fact that Mikayla is blind, she experiences many vocabulary challenges. Although she is allowed many opportunities for tactile experiences, there are some things you need to "see" in order to fully understand. Mikayla has never seen the ocean or a shark so these are foreign concepts to her. Mikayla experiences severe dysarthria. She also experiences seizures, lasting 30 seconds to 3 hours if she experiences a gelastic laughing seizure. Following these seizures, Mikayla may experience several days of fatigue and weakness. She has also had seven different chemo treatments over the last 10 years. This has taken a toll on Mikayla as well. Mikayla was tested at Nebraska School for the blind and the deaf in 2018. At that time, they found her current approximate functional age equivalent to be 5 and ½ years to 5 years 9 months. 
Mikayla is performing well above others who have had similar diagnoses. This is a testament to Mikayla's hard work and determined attitude. Due to the fact the Mikayla is blind, she is unable to observe visual cues from the clinician in terms of articulation therapy. She must rely fully on auditory cues. Mikayla has done a wonderful job with this. It often takes quite some time to acquire new and correctly produced words; however, she also works hard toward this goal. When someone doesn't understand what she is attempting to communicate, she will restate it until they understand. MIkayla is determined to get her message across.
Mikayla has experienced a myriad of challenges in her short life. She always comes to therapy ready to work. As mentioned above, due to dysarthria and blindness, it takes quite some time to acquire new, correctly produced phonemes. She works so hard at this. She has an infectious laugh and a kind, caring heart. Mikayla has overcome so many obstacles and is an inspiration to everyone who knows her!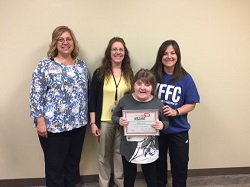 NSLHA VP Membership Michell Ruskamp presents a 2019 Better Hearing and Speech Month Award to Mikayla Loseke. Pictured (left to right): Michell Ruskamp, Nicole Reardon, Mikayla Loseke and Katie Loseke.