Better Hearing and Speech Awards
The Nebraska Speech-Language-Hearing Association (NSLHA) will select up to three (3) Better Hearing and Speech Month Award recipients during the month of May. Award recipients will be recognized during the Better Hearing and Speech Month proclamation ceremony on May 6, 2019 at 10:30 a.m. in the Warner Chamber at the State Capitol in Lincoln, Nebraska.

There are no age restrictions for the Representative nominees. Nominees must have a significant hearing, speech and/or language challenge. Nominees may be sponsored by parents, spouses, teachers or NSLHA members. Entry forms must provide a professional estimate of the degree of hearing and speech impairments.
The Child Representative and/or Adult Representative will be used in photographs to promote Better Hearing and Speech Month in Nebraska during the month of May.
Complete and submit this nomination form and permission form to the NSLHA office by April 19, 2019. A permission form must be submitted by the individual being nominated (if an adult) or the parent or legal guardian of a child who is nominated.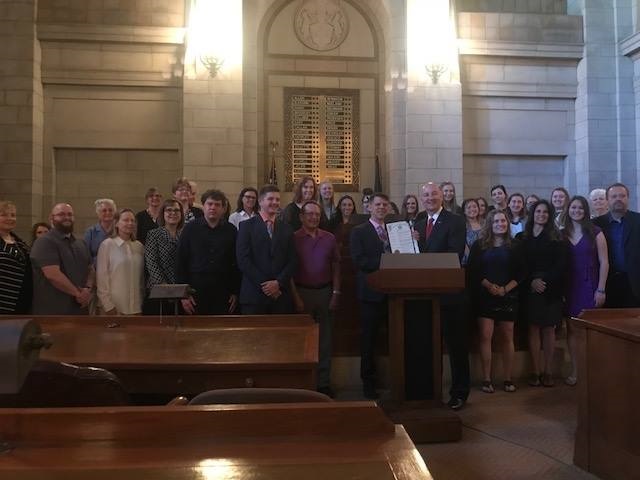 2018 Better Hearing and Speech Recipients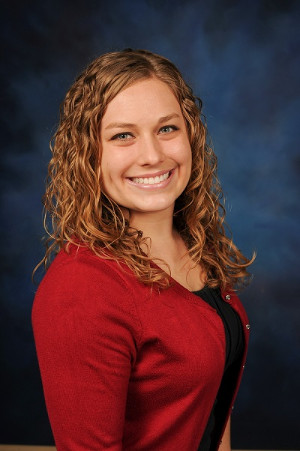 Heather Boulais
Heather sustained a traumatic brain injury (TBI) after falling 23 feet onto the gymnasium floor during gymnastics practice in 2015. Heather had severe brain damage in her left hemisphere. At the time of her injury, she was a senior at Union College in Lincoln, NE who was majoring in Elementary Education and Spanish and the captain of the gymnastics team. Heather was treated for her injuries at Bryan Medical Center for 1 month and was then transferred to the Madonna's Inpatient Rehabilitation Hospital for 7 months. Unlike some people who sustain a TBI, Heather had to relearn to vocalize and talk. Heather continues to be challenged by verbal apraxia, aphasia (difficulty in getting the right sounds and words out), and cognitive communication impairments.
Heather currently receives speech therapy at Madonna Outpatient Rehabilitation Hospital three times per week and the Barkley Memorial Speech Clinic twice per week. Her primary modes of communication are through one to four-word phrases, gestures, and pointing. Heather is learning to be more spontaneous in her
conversations. In therapy, Heather works on her communication in the areas of speaking, reading, letter identification, and writing. Despite her communication impairments, Heather creates unique ways to communicate with others, such as counting to the number she wants to say. Heather is especially good at
communicating her personality to others, through her heartwarming grins and laughs. Her sense of humor and warmth help Heather make instant connections with new acquaintances and maintain old friendships.
Much credit is due to Heather's dedicated family who provide unconditional love, support, and strategies gained in therapy with her. They are always patient and give Heather the support and wait time needed to express her wants, needs, and ideas. In doing this, they help Heather become independent in her communication and serve as her own advocate.
Despite her deficits, Heather has never let them get in the way of her continuing to pursue her interests and passions. Her eyes light up when you mention teaching, gymnastics, or her family member's names. Heather volunteers in a 2nd grade classroom twice a week, helping the teacher with tasks and interacting with students. She will tell you she volunteered by saying, "One, two, second grade!". Heather's mom says that Heather's natural teaching abilities have been retained since the accident, as she loves to administer math and spelling tests to others. Heather's goal is to become a teacher. She has also stayed involved in gymnastics, even completing a routine at the Gymnaires Homeshow with her sister and mom in 2017. As Heather continues to regain abilities to teach students and pursue her passions, she continues to teach her family, friends, and therapists along the way.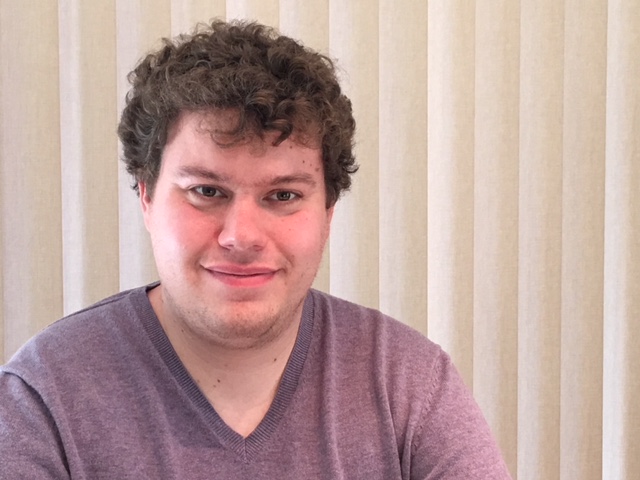 Ben Merliss
Ben Merliss is gifted in the area of music. His communication skills have interfered in pursuing musical opportunities and in getting and keeping a job, due to frequent social misunderstandings and related processing issues. Many unwritten rules of the workplace were initially unknown to Ben. Interactions with employers and customers were prone to miscommunication due to social language deficits. Emotional regulation and executive function interfered with employment, communication and independent living as well.
Ben has been seen two times per week at the Learning Strategies Center for just over two years now. He has embraced the social communication information shared and endeavored to carryover that learning outside of the office. He adjusted his thinking over and over again to accommodate unwritten rules of life that he had been unaware of and to alter social rules he had mis-learned. The process was difficult and emotional for him, but he persisted. He pushed himself to incorporate executive function strategies in his life as well, as he improved his independent living skills, obtained employment, improved his soft skills of the workplace, and eventually improved his employment to nearly full-time hours. Ben also has honed his social communication skills that are specific to interacting with audiences and other musicians, in order to further his music career.
Ben's hard work and success exemplifies how speech/language services can be life changing for someone. His dedication to improving his social language and executive function skills have resulted in stunning improvements in his function. As Ben worked to improve his social communication skills these past two years, his efforts lifted him out of underemployment and social isolation. Ben is now a valued employee at Russ' Market, where he works as a courtesy clerk around 30 hours per week. He is a talented bassist, who is using his musical training to perform with various bands, ensembles and orchestras on a regular basis, averaging several gigs per week. He teaches private music lessons to a handful of students each week. And, he has developed social connections and now enjoys getting together to spend time with his friends. His improved communication skills have made for a richer and happier life for him, and we all benefit as a society from the contributions that Ben is making in the world.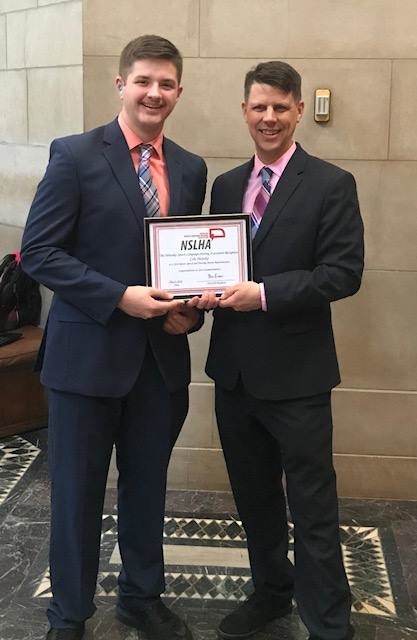 Cole Pasteka
Cole has bilateral hearing loss. His right ear is moderately severe to severe and left ear is severe to profound. He uses bilateral hearing aids.
Cole communicates well with spoken English. Cole is a successful high school student who, with his parent's nurturing and their consistent support, has excelled in all areas of academic and extracurricular activities. He and his family have done this through early intervention and continued access to resources that provide the best possible communication-skill development. 
In November 2017, Cole became an Eagle Scout. He did not hesitate to address those assembled (easily more than 100 people) to honor him. He did so with eloquence and an appropriate touch of humor. 
As a newborn, Cole was found to have a significant bilateral hearing loss.  Now, he is a teen who is an inspiration to all who meet him.  His hearing challenges do not define him, but he is fully aware that with hard work and persistence, he can meet every challenge presented to him.  He truly deserves the recognition that this award provides.  His story serves as an inspiration to parents who are learning that their child has hearing loss and to other children who wear hearing aids.  They will know that they are not alone, and that they can succeed.
During Cole's Eagle Scout ceremony one of his teachers provided comments that strongly support his nomination and describe what in inspiration he is to others. Kaylene Randall, Teacher of the Deaf/Hard of Hearing, at Bellevue Public Schools wrote: "I have known Cole for 6 years; we met when he was in 4th grade at Two Springs. And as I looked through the personal qualities of the Scout Law, trustworthy, loyal, helpful, friendly, courteous, kind, obedient, cheerful, thrifty, brave, clean, and reverent, I see that Cole fits all of these qualities. I cannot think of a finer example of a young leader.
As a teacher, we are blessed to have the opportunity to work with students and inspire them be the best that they can be. What is not discussed nearly enough, are the students that inspire teachers.
In the last couple of years, a great movement was started at a school in Kansas. It is called the Positivity Project.  This project allowed teachers to take a moment and let students know how they have inspired the teachers.
I would like to take this time to tell you, Cole, how you have inspired me. Cole, you are one of the students that make me want to get out of bed in the morning, go to work and be the best teacher I can be. Cole, you inspire me because you are courageous. You are one of best examples of being a self-advocate that I have ever met. I am proud of you for not allowing your hearing to get in the way of being successful. It can be hard for people to admit when they need extra assistance and you are brave and take care of your needs. You are confident and willing to put your pride aside to make sure you are as successful as possible. Your braveness inspires me and will take you far (I would say it already has)!
Cole, you inspire me with your kindness. Last week, I when I emailed you to let you to check in and to let you know that I would not be there on Thursday because my father in law was in the hospital, you replied and the first thing you said was "Oh I'm so sorry to hear that I hope he gets well"
That is so kind and, trust me, most teenage boys would probably not respond in such an appropriate and thoughtful manner. Your kindness inspires me.
Cole, you inspire me how you are so helpful and friendly. When you come to me and tell me that you noticed a new student in the hallway at the high school that is wearing a hearing aid, and you insist to go with me and meet them right away so that they know someone at the school and they do not feel alone, your friendliness inspires me. When you meet them and you tell them that if they need something they can always come and find you and you will help them, your helpfulness inspires me.
Cole, finally, you inspire me because you are an Eagle Scout! Congratulations!  I am so very proud of you! "