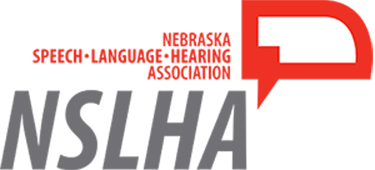 2016-18 Long-Range Strategic Plan
VISION STATEMENT

NSLHA will be the leading voice and partner in promoting speech, language, hearing, balance, swallowing and related disorders in Nebraska, and will be an expert in advocating for the rights and interests of persons with communication disorders.
MISSION STATEMENT
The mission of NSLHA is to promote services for speech, language, hearing, balance, swallowing and related disorders in Nebraska; to support its members through professional development, networking, communications, lobbying and advocacy; to encourage education and research activities; and to advocate for the rights of persons with communication disorders.
FOCUS AREA 1:  ADVOCACY
ISSUE:  An organized, cohesive effort will be developed and maintained by NSLHA and its members to advocate for clients receiving speech, language, and hearing services and enhance the ability for members to deliver those services.
GOALS:
Increase member awareness of Nebraska's legislative process.
Enhance relationships with professional stakeholders (e.g. state lawmakers, Department of Education, school administrators and the Department of Health and Human Services).
Increase member participation in grassroots advocacy.
Coordinate with ASHA to strengthen guidelines for current practices in Nebraska.
FOCUS AREA 2: MEMBERSHIP GROWTH AND ENGAGEMENT
ISSUE: As a growing, vibrant organization that embraces and adapts to the changing needs of its members, NSLHA will experience membership growth and engage members who are connected and involved in advancing the association's vision and mission and experience enhanced value and support.
GOALS:
Create and maintain a diverse and growing membership that recognizes NSLHA as their primary resource for advocacy, education, resources, tools and information.
Develop new member benefits and services.
Increase member participation in leadership and volunteer opportunities.
Develop a membership recruitment plan to connect with and engage prospective members.  
FOCUS AREA 3: PROFESSIONAL DEVELOPMENT/CONTINUING EDUCATION/NETWORKING
ISSUE: Offer a variety of professional development and networking events for members and prospective members to help them expand their knowledge, learn new practices, and share information and resources.
GOALS:
NSLHA members will have access to convenient, affordable education opportunities.
A majority of NSLHA Fall Convention attendees will rate their overall experience on their
attendee evaluation as "met expectations."
FOCUS AREA 4: FINANCIAL HEALTH
ISSUE: Increased revenue and being good stewards of NSLHA's resources results in an association that is able to meet and exceed its members' expectations through delivery of value-added programs and services and remains viable for years to come.
GOALS:
Identify measures to increase revenue for NSLHA, in order to provide member services and support and achieve the association's vision and mission.
Identify cost savings measures that support good stewardship of NSLHA's resources, without undue negative impact on member services delivery and valued programs.
Investigate new membership dues payment models.
Develop an industry partnership program.
Increase association cash reserves.
Educate membership regarding association financial health.