NSLHA's Legislative Day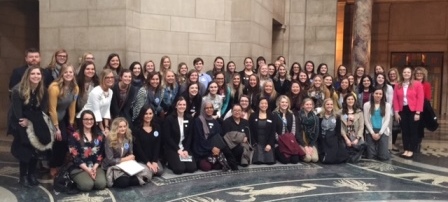 Nebraska Speech-Language-Hearing Association Legislative Day
Wednesday, February 14, 2018
11:00 a.m. - 1:00 p.m. at the State Capitol in Lincoln, Nebraska
The impact that you can have by connecting with your state senator, building a relationship, and offering support is tremendous. Please plan to attend and share your ideas, concerns and recommendation with state senators on how to enhance speech, language and hearing services for Nebraskans.
It's an opportunity to build relationships with state senators, while educating and informing them about the speech-language-hearing field in our state. This is increasingly important, as the healthcare environment continues to change, and the ability to deliver speech-language-hearing services becomes increasingly challenging.
Agenda
9:30 a.m. – Go to the Norris Legislative Chamber Balcony to Watch the Legislature in Session and Be Recognized for NSLHA's Legislative Day
10:00 a.m. – Deliver Handouts to Senate Senators' Offices
11:00 a.m. - Welcome from NSLHA Legislative Affairs Committee Co-Chairs Josh Sevier and Jessica Thoene
11:05 a.m. - Overview of State Legislative Issues
11:30 a.m. - 12:00 p.m. Legislative Updates from State Senators
12:00 p.m. - 1:00 p.m. - Luncheon with State Senators
Registration will open in the winter of 2018.